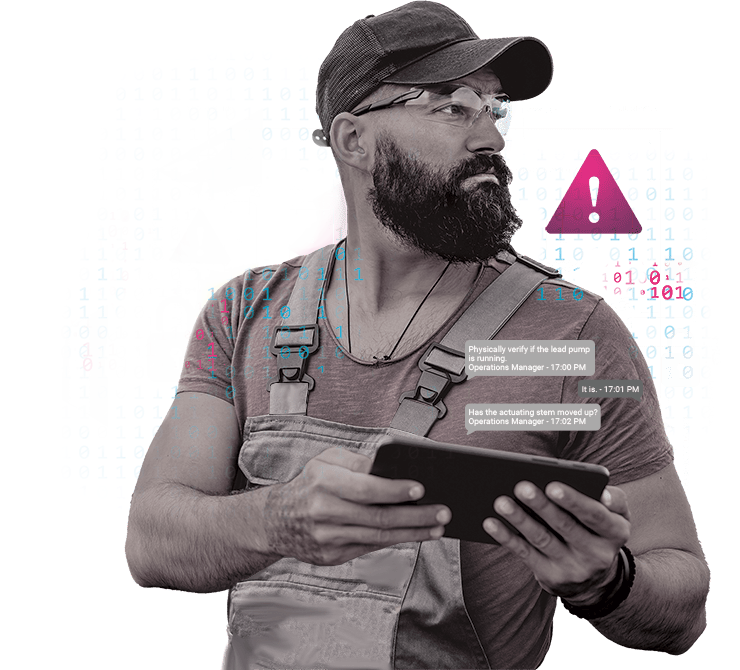 Avoid problems before they occur:
With the WIN-911 you have your production in view. In the event of error messages in your plant and equipment, you are informed directly and can react at an early stage. This helps you to avoid production downtimes and unnecessary rejects: You work more efficiently! Because you also reduce the personnel and maintenance costs that these failures entail.
What's special about WIN-911: It fits in your pocket as a host! From anywhere and at any time you receive the error messages directly to your mobile device via the mobile app, text messages, calls, etc..
WIN-911 as a simple, fast and safe way
to detect, communicate and resolve alarm conditions.
The installation is simple and straightforward. Drücker Steuerungssysteme supports you in integrating the notification software into your existing system landscape. Due to the low ongoing license costs and the great savings potential in material, time and personnel, your return of investment (ROI) is unbeatable!
Make your operation safer, more productive and cost-saving with Drücker control systems!
Request DEMO appointment now!

WIN-911 Smart Notification Software
The most widely used platform for alarm notifications in industry and IIoT
WIN-911 is the global standard for industrial alerts - it is used by more than 90% of Fortune 50 manufacturers and protects over 18,000 assets worldwide. With secure, cloud-based access, WIN-911 delivers critical machine and process alarms, alerts and notifications via mobile app, text, voice, email or plant announcements, reducing production downtime and maintenance costs.
SMS notifications support globally used standards and modems, as well as character sets for all major spoken languages. WIN-911 supports notifications via Voice over Internet Protocol (VoIP) as well as landline/analog lines; both as a backup in case the Internet goes down and for users who do not want to use the Internet for security reasons.
The WIN-911 Mobile App gives you a faster and easier way to troubleshoot industrial alarm conditions in real time. All notification options support one-way or two-way communication, acknowledgements, and custom formats.
WIN-911 connects directly to the world's leading industrial automation systems from Rockwell Automation, Aveva, Schneider Electric and GE, making it easy for operators to learn and easy to integrate into existing plant systems and infrastructure.
Your benefits at a glance!
Future-proofing your system
With a Customer Care subscription, you get multiple upgrades and updates every year, so your systems are always up to date.
Multiple methods for notification
We offer the most widely supported notification methods, including spoken voice (digital and analog), in-plant PA, email, text, and mobile app.
Talk to a human
Our support is provided by friendly technical experts via phone, chat, email or remote login to help solve your toughest problems faster.
Ensure the reliability of your system
You can program multiple notification methods and hot-back logic to ensure greater system reliability through redundancy.
Supports live and historical views
Logging reports let you sort alarms according to your preferences, such as notification attempts, acknowledgments, confirmations, events, and error codes.
Secure, cloud-based access
Your plant network and communications are protected by encrypted outbound communications and individual login authentication.
Options for notification in our WIN-911 solution
All notification options support one-way or two-way communication, acknowledgements, and custom formats.
Smartphone Apps
Interactive, intuitive apps with push notifications for Apple and Android.
SMS text message
Text-based alarm notification via cellular networks. Supports both USB and Ethernet IP cellular modems.
Voice calls
Text-to-speech engine dynamically reads out alarm information. Supports VoIP (SIP) or analog phones (USB voice modem).
Notifications
Voice alerts are automatically announced through your PA system or any networked audio device.
Email
Rich HTML or plain text templates support a wide range of devices. Protocol support for SMTP, POP, IMAP, SSL/TLS.
Improving response time in the event of an alarm through intelligent escalation
From simple notification lists to complex escalation workflows: WIN-911 enables quick configuration of alerts based on alert types, severity levels, staff roles and schedules.
For example, you can specify that the most critical device alarms should be communicated to all staff and managers, while maintenance technicians receive a broader range of event data.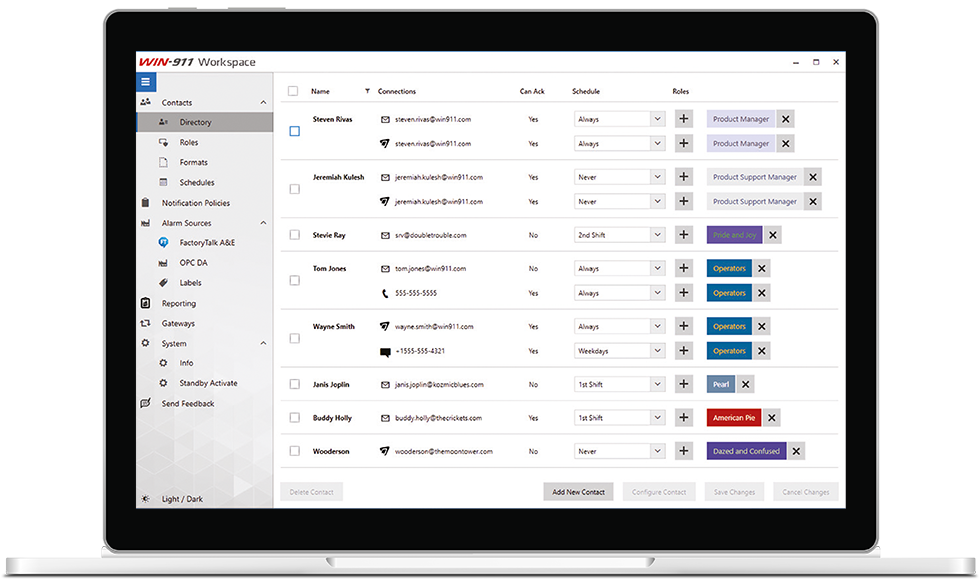 Rapid creation of notification lists with support for retries and delays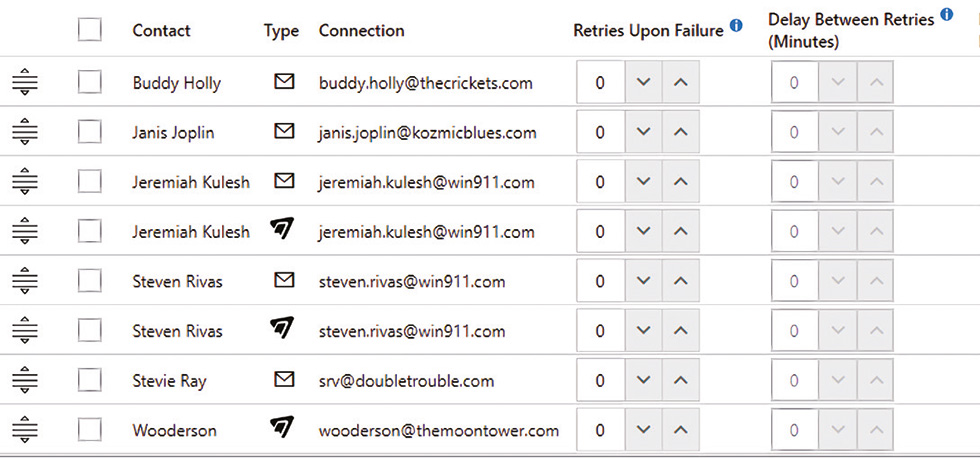 Lightning fast configuration of notification workflows
From simple notification lists to extensive workflows

Dynamic sequence of actions according to the course of the alarm event

Transmission of event-based reports via push notification

Update schedules, personnel data and organizational changes with just a few clicks
Request a free DEMO appointment now!
We will be happy to give you a direct insight into the WIN-911 solution! Contact us and receive an appointment for an individual DEMO presentation shortly.




© 1985 – 2023 | DRÜCKER Steuerungssysteme GmbH