Quality of the Drücker Steuerungssysteme
We deem our sucess to be based on our fundamental values:
"Customer satisfactions is at the center of our work. In our competitive market, we are all in the same boat!"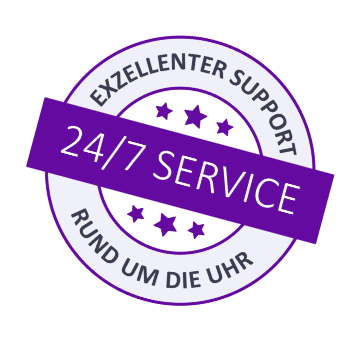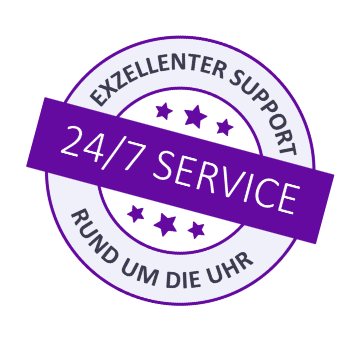 Management priciples in regards to quality:
The realization, that when the "DRÜCKER-Team" delivers the best quality, we will bind our customers to us in the long term and will convey ourselves the feeling of togetherness, security, and joy of the work.
We view our ability to innovate as an important prerequisite for building and maintaining a customer-oriented corporate culture. With our services and our products, we contribute significantly to the innovative solutions of our customers and we are usually the innovation leader.
Als Bestätigung unserer Leistungen sind wir im Dezember 2002 mit dem VR-Innovationspreis 2002 als das innovativste Unternehmen in Baden Württemberg ausgezeichnet worden.
Our employees are the key to success. Our goal-oriented practices and transfer of responsibilities, customer maintenance, and supplier relationships motivate our employees and promote entrepreneurial action.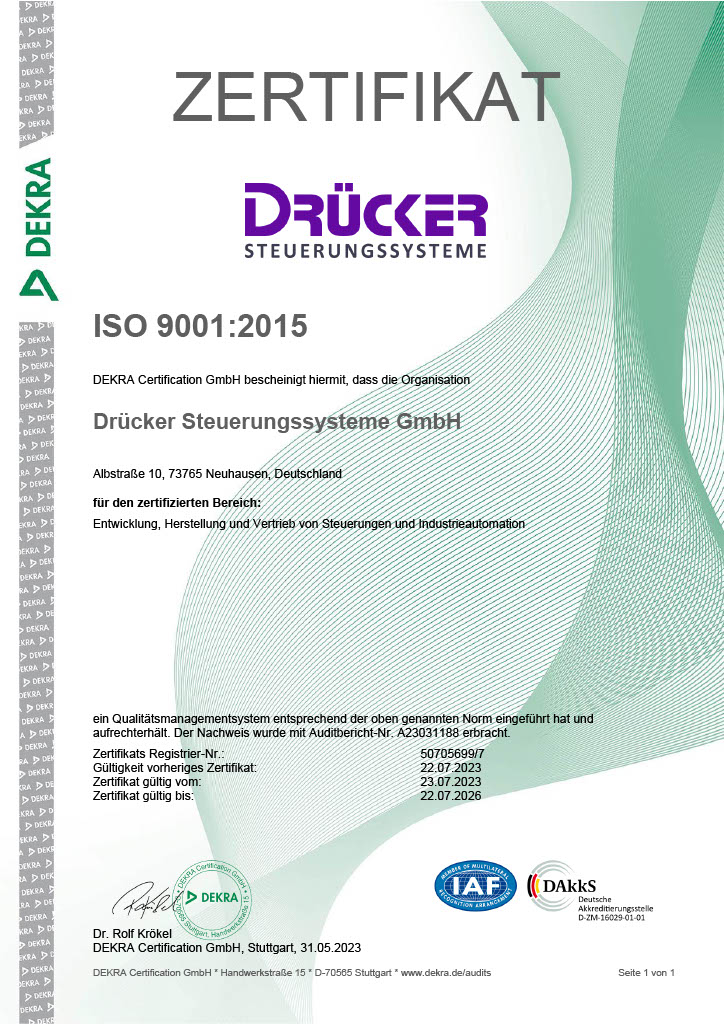 Quality principles
The management of the company Drücker Steuerungssysteme GmbH, Albstraße 10, 73765 Neuhausen hereby declares the quality and environmental targets according to their own quality and environmental policy as follows:
The customer is at the center of our actions. Information and experiences are exchanged intensively and cooperatively, aiming to develop and offer professional products and services to benefit the customer.
High innovation speed and innovative technologies ensure our future objective: Sucessfully tapping into new markets as well as establishing or maintaining the role of the market leader with some of our products.
The highest quality is our standard. It is a decisive competitive factor and measure of our actions. Each employee is responsible for achieving our quality objectives. We work following the rules of the quality management system according to DIN EN ISO9001 with the aim of safe processes, error prevention over error correction, cost control and continuous improvement.
The employees take responsibility for structuring and developing the company. Ensuring continuous quality is primarily their task. As a team, we achieve peak performance through participation with our whole personality. As a part of continuous training for our employees, we strive to convey the necessary expertise and skills, give them responsibilities and provide them the knowledge and freedom for independent action.
Die 10 quality priciples of the DRÜCKER Steuerungssysteme GmbH
We want satisfied customers. Therefore, high quality of our services is one of the top company goals.
The customer set the benchmark for our quality. The customers judgement about our services is crucial.
The quality goal is always "No errors", or "100% correct".
Our customers not only judge the quality of our services, but also the quality of our suppliers and system partners.
Inquiries, offers, complaints, etc. are processed quickly and thoroughly. Agreed upon deadlines must be kept.
Every employee of the company contributes to achieving our quality goals. Therefore, flawless work is required from each employee, from the apprentices to the managing director. Anyone who recognizes a quality risk and might not be in power to remedy the risk is obliged to inform their supervisor immediately.
Each task should be appropriately executed from the beginning. Complying with occupational safety is particularly important. This does not only improve the quality but also lowers our cost. Quality increases the economy.
Not only the erros, but the cause of the errors must be eliminated. Error prevention over error correction.
Despite greatest diligence, occasionally errors can occur. Therefore, we introduced numerous tested procedures and protocols to discover errors in time. The procedures must be applied with the utmost consequence.
Our quality guidelines are binding. Achieving our quality objectives is an important leadership task.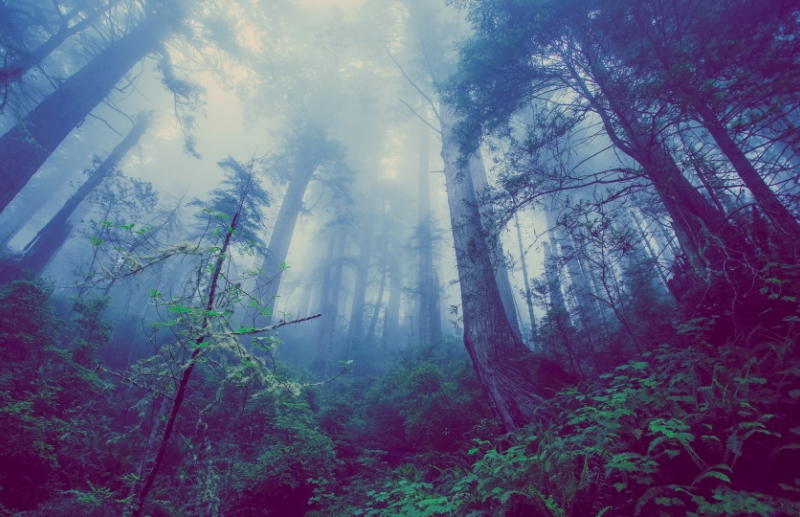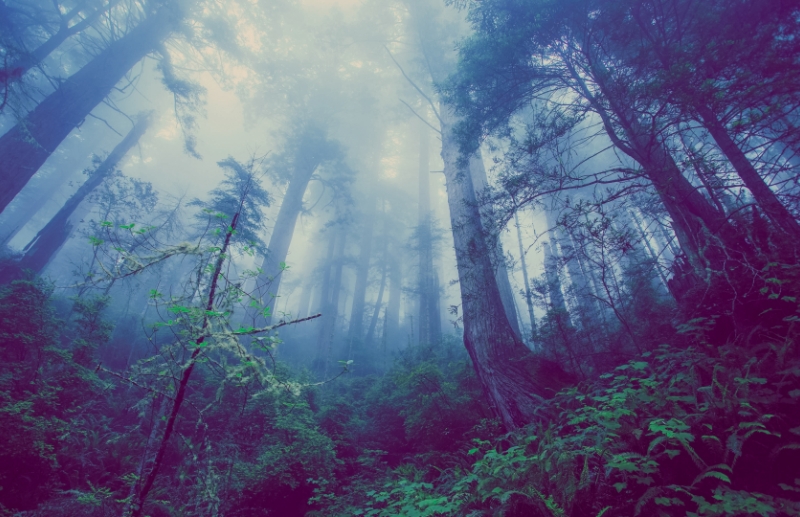 Environmental principles
We are committed to the responsibility of our environment and consider environmental protection as an important part of our corporate governance. We ensure that environmental protection is implemented in all functions and on all levels, from specific goals up to behavioral rules.
We support all processes that lead to a continuous improvement of our environmental management system and our environmental performance.
We promote responsible action and knowledge of our employees in all environmental topics.
We reduce environmental impacts when we recognize them and develop mitigation solutions.
We work following the rules of the environmental managment system according to DIN EN ISO14001.
The 5 environmental guidelines of the Drücker Steuerungssysteme GmbH
We want to reduce primary energy use and therefore we use measures in our buildings such as controlling the lighting and blinds based on the current outdoor lighting, increased building insulation and green roofs, as well as the use of modern gas condensing boilers with night reduction.
We want to reduce water use and therefore we use toilet flushes with AquaStop function. The surface water is channeled into the recultivated river.
We are separating waste for raw materials, residual waste and recyclables. Received packaging material is reused during shipping. Excess packaging is disposed of via a certified company.
We collect electronics andelectronic waste from our factory, from our employees and also from our customers. We dispose the collected scrap through a certified company.
We want to reduce emissions and put our fleet on diesel particulate filter technology as soon as the manufacturers offer suitable systems. We would like to further reduce fleet consumption through employee training and use of other diesel vehicles.
Do you have questions about DRÜCKER Steuerungssysteme GmbH and our range of services?




© 1985 – 2023 | DRÜCKER Steuerungssysteme GmbH